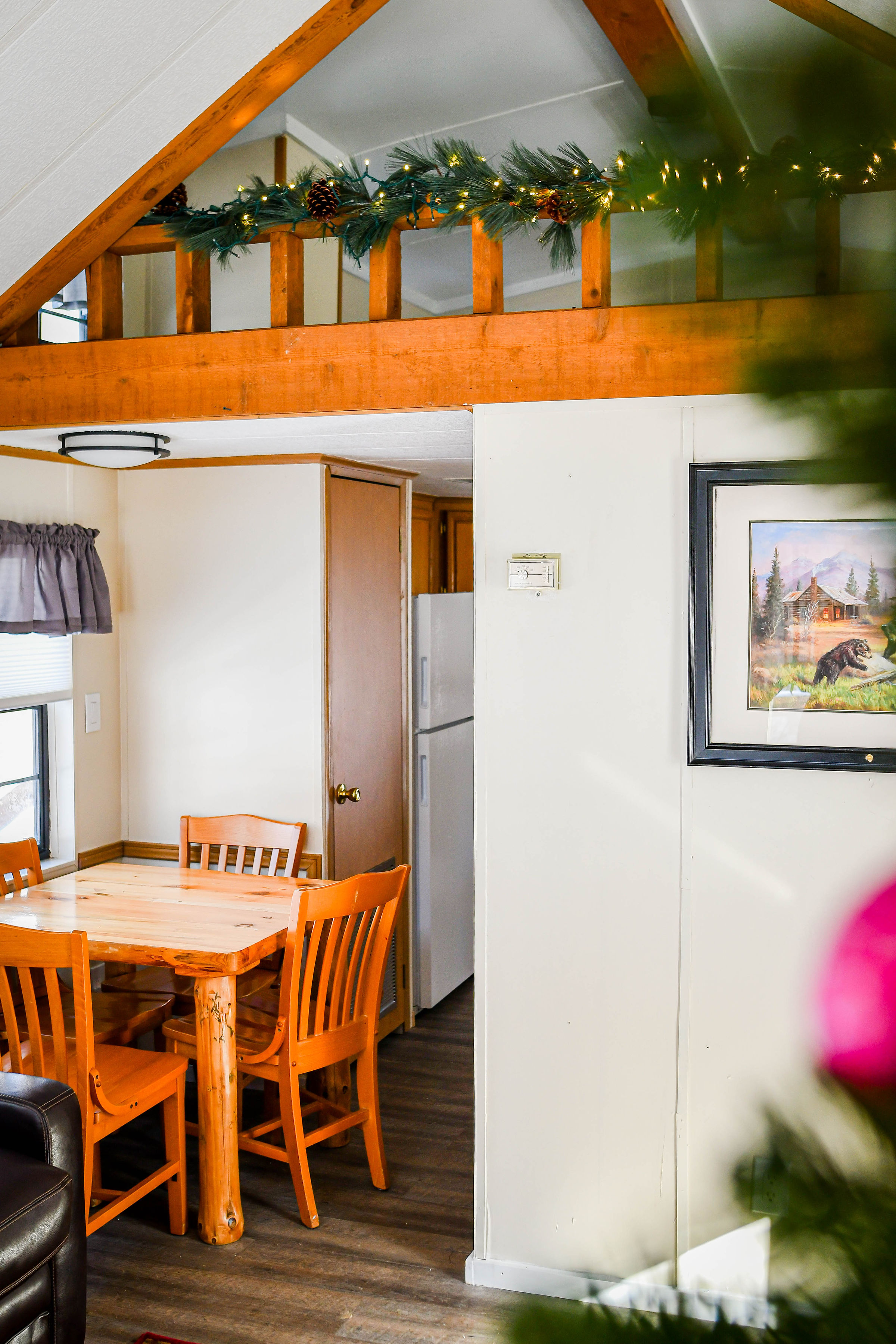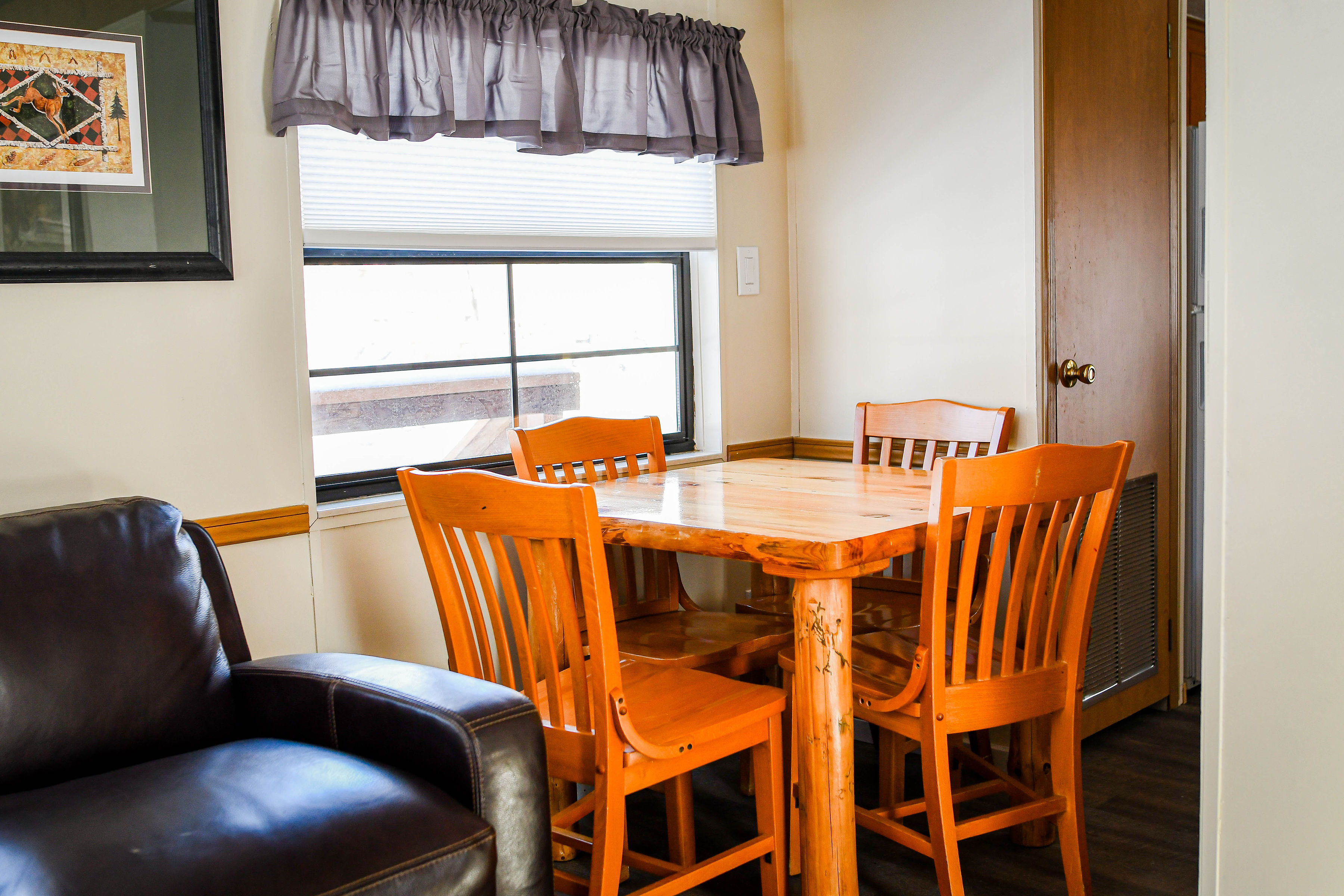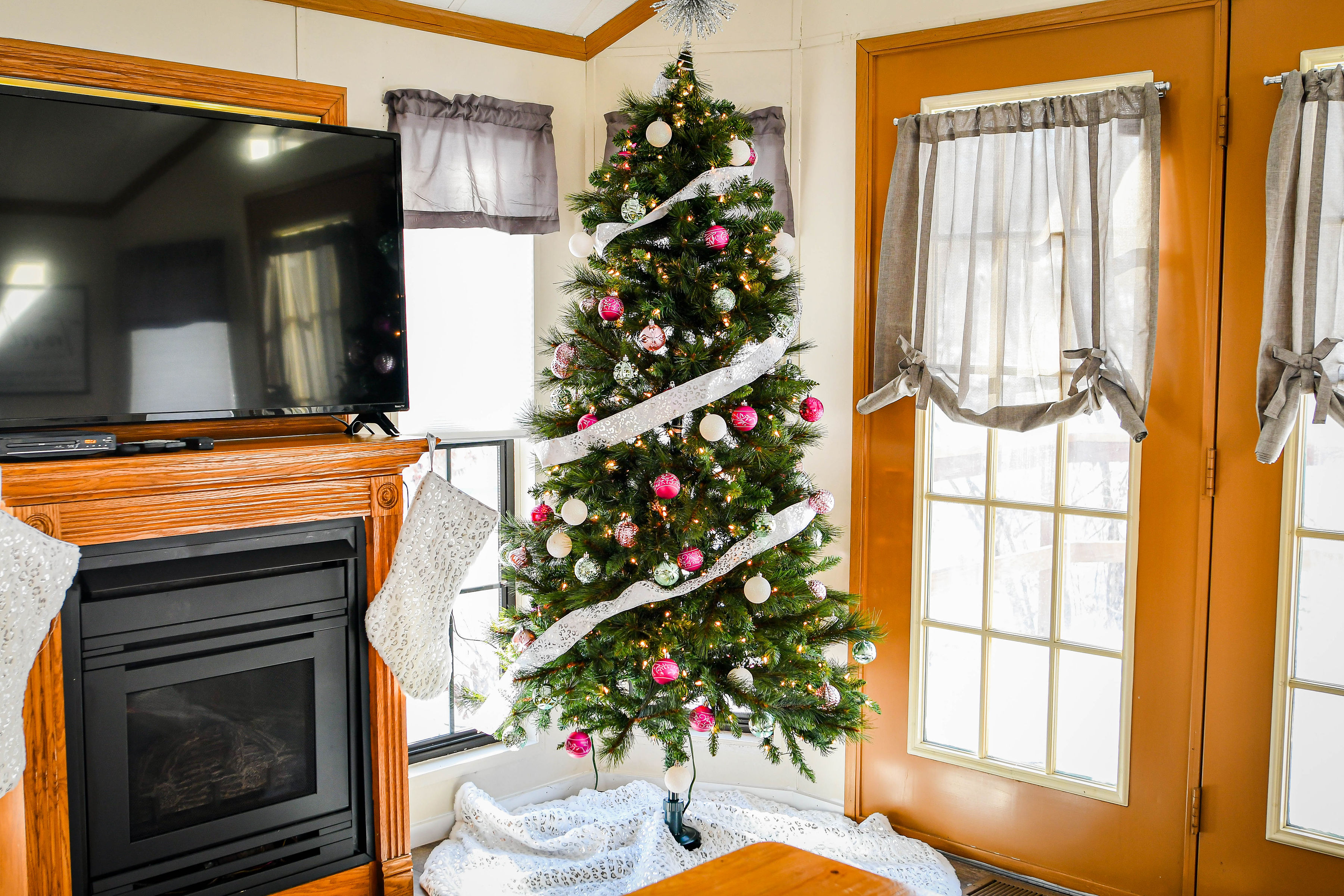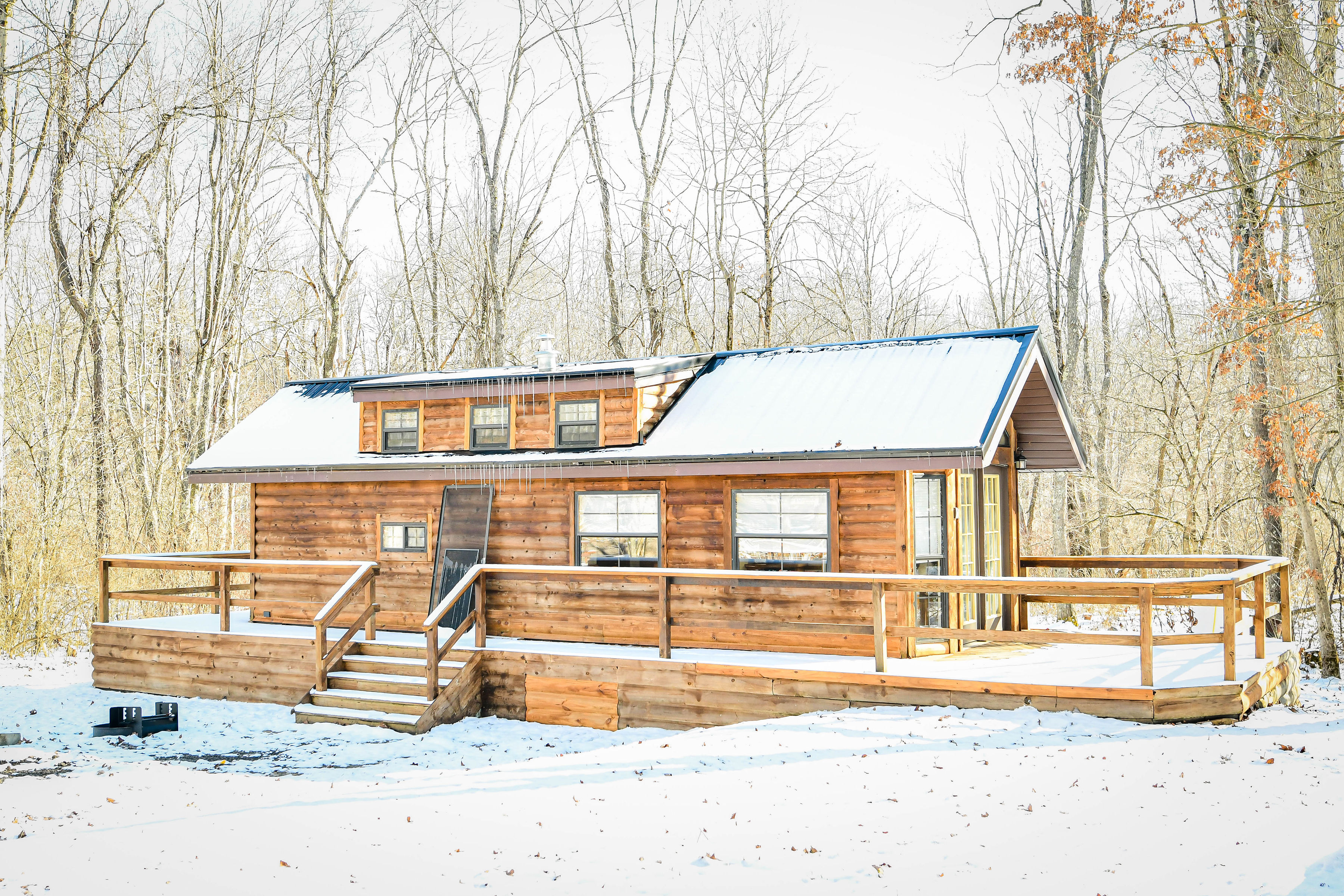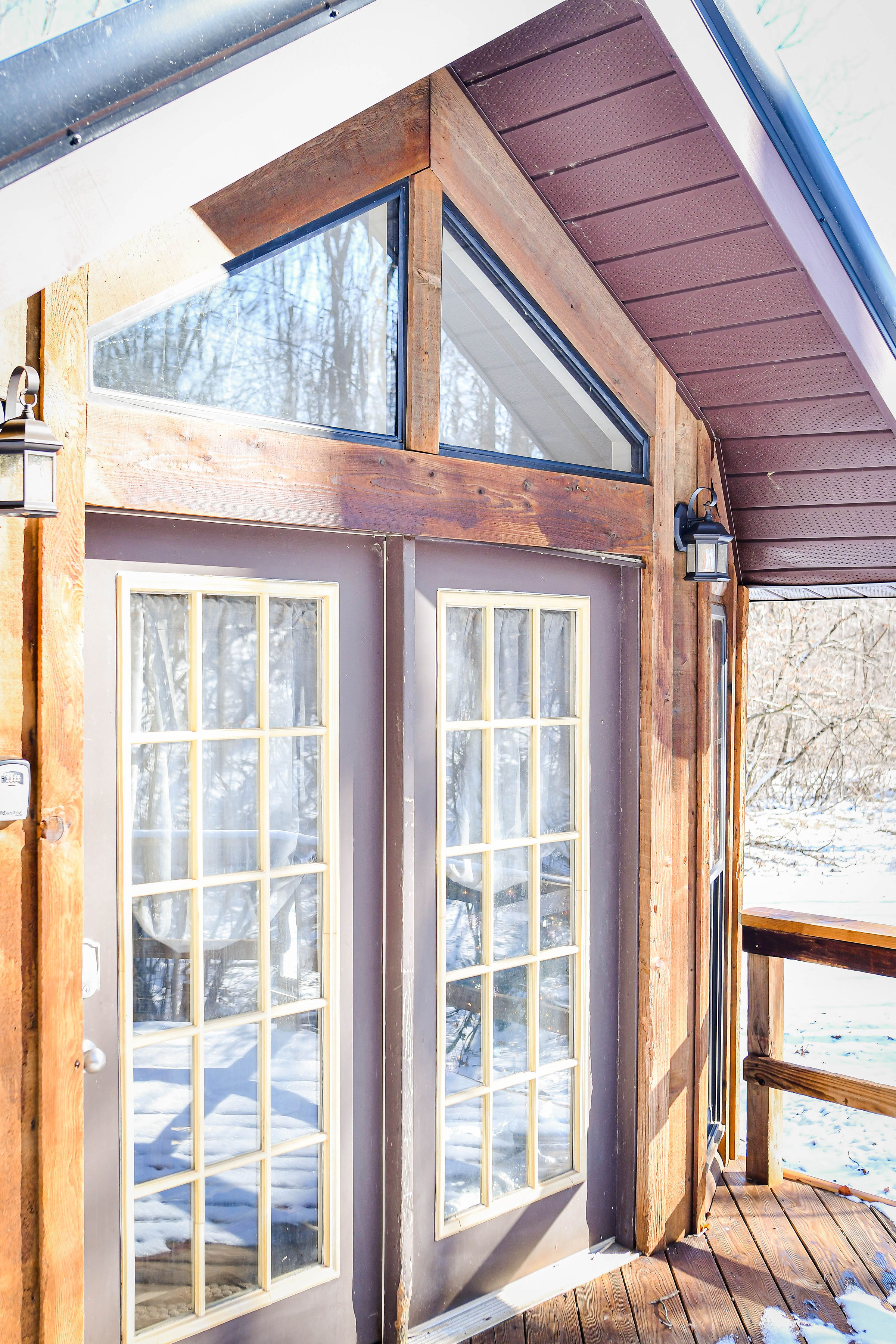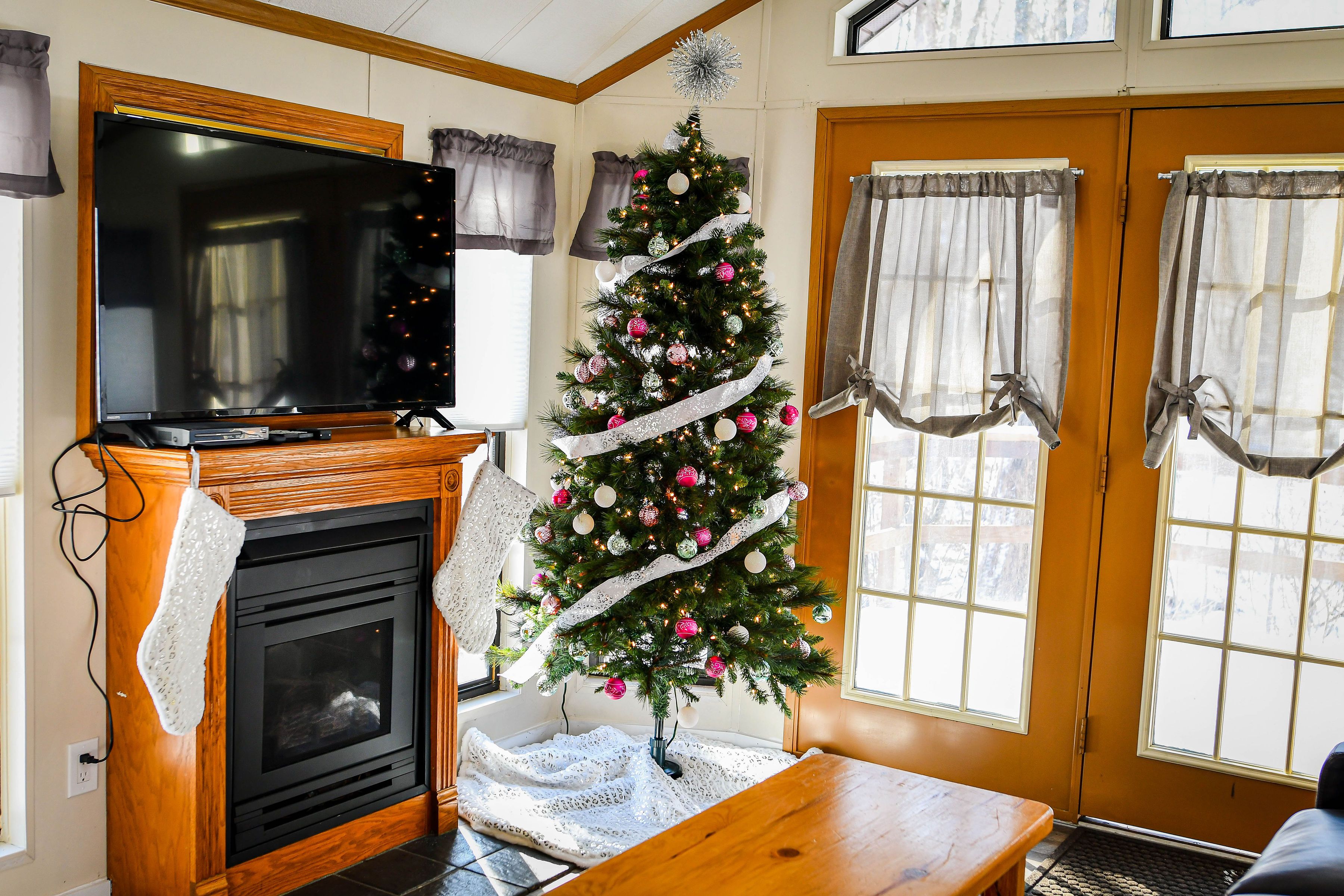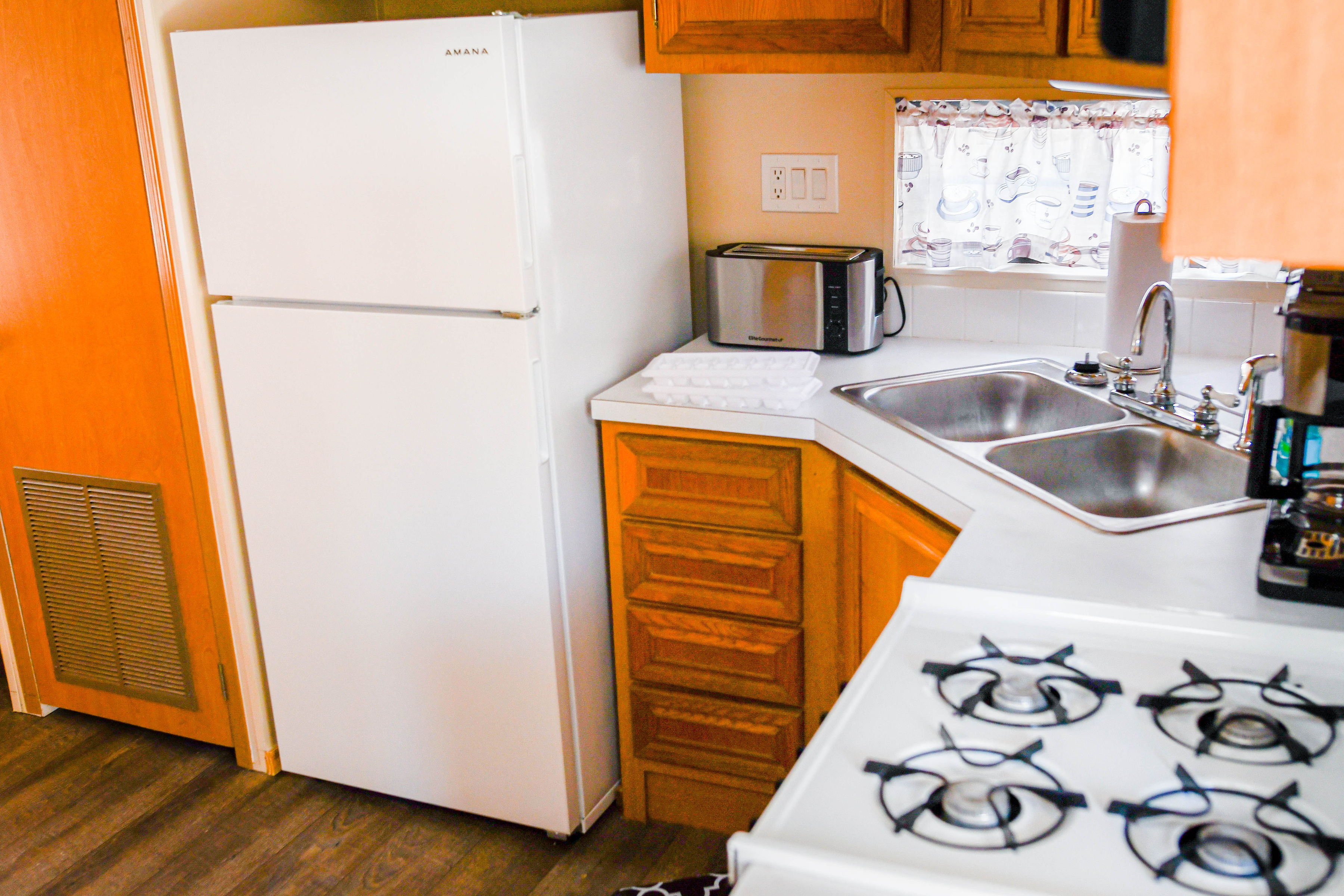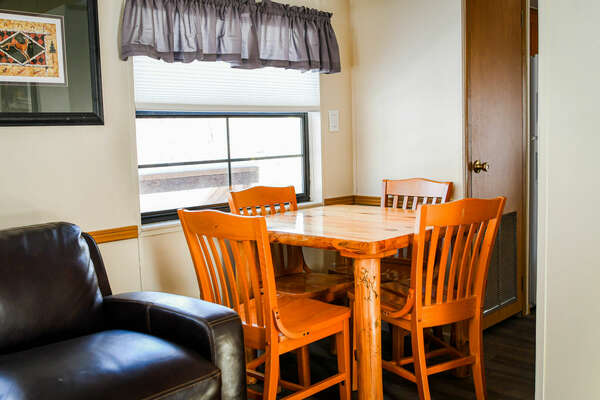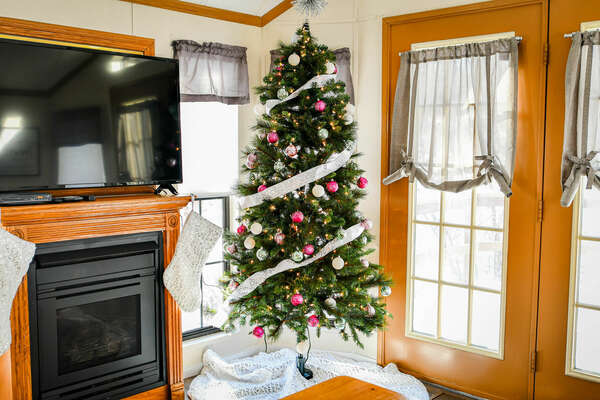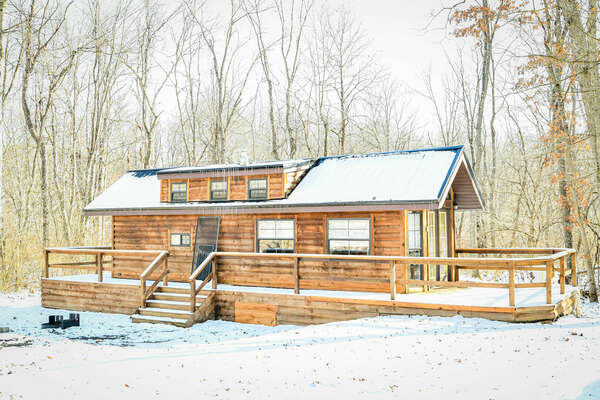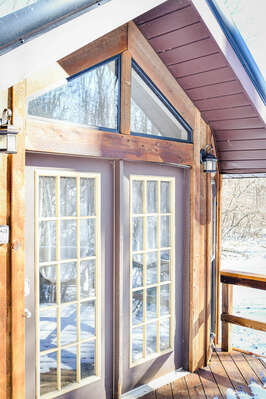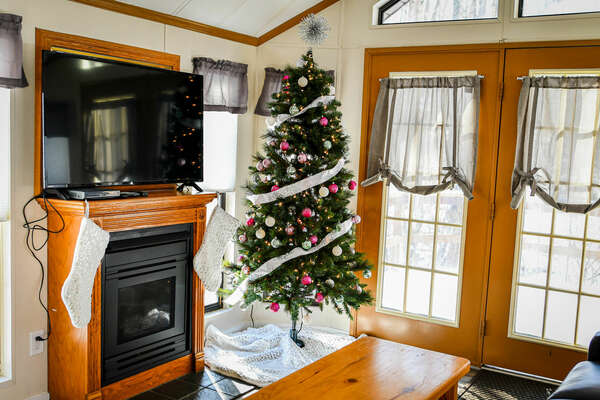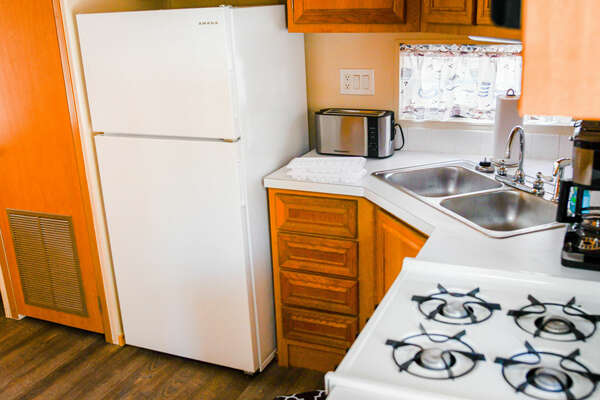 Five Pines Log Cabin
1 Bedrooms
1 Bathrooms
Sleeps 4
Farmington Cabin
Description
Charming Log Cabin Tiny Home
Imagine a charming little log cabin nestled in the peaceful Laurel Highlands, surrounded by towering trees and lush greenery. The exterior exudes a sense of rustic charm that is sure to put a smile on your face. As you step inside the cabin, you are greeted by a warm and welcoming atmosphere. The interior is cozy and inviting, with a gas fireplace at the center of the room. The open floor plan allows you to move freely between the kitchen, dining, and living areas, making the space feel larger than it actually is. The kitchen is small but well-equipped, with a sink, refrigerator, and stove/oven combo. There is plenty of counter space for meal prep and a small breakfast bar. The dining area is located just off the kitchen, with a small table and chairs that can comfortably seat four. Moving into the living area, you will find a cozy couch and armchair, perfect for snuggling up with a good book or movie. The space is flooded with natural light from the large windows, which also provide stunning views of the surrounding nature. There is also WiFi, a smart TV and DVD player for entertainment. At the far end of the cabin, you will find the cozy bedroom, complete with a queen-sized bed, and a nightstand. The room is flooded with natural light from the large windows, providing stunning views of the surrounding landscape. There is also a small loft area with twin bed, perfect for extra guests or children. The bathroom is located just off the living area, with a shower, sink, and toilet. The space is small but functional, with plenty of storage for all of your toiletries. Outside, you will find a small deck with a table and chairs, perfect for enjoying your morning coffee or a late night glass of wine. The cabin is just minutes from hiking, biking, and whitewater rafting, as well as the beautiful Ohiopyle State Park. Overall, this cute and cozy log cabin tiny house is the perfect escape for those looking to reconnect with nature and escape the hustle and bustle of everyday life. Whether you are looking for a romantic getaway or a solo retreat, this charming little cabin has everything you need for a peaceful and restful vacation.
Amenities
All Ohiopyle Vacation Rentals are professionally managed locally, which means you have the convenience of having 24/7 support. You can also expect the following amenities in all properties: Linens & Towels for all guests, Convenient Check-In, Free Wifi, & Pets Allowed.
Location
Five Pines Log Cabin
Enhance Your Stay
Your experience is more than just your stay, that's where our family of brands is ready to help make your Ohiopyle vacation unforgettable. Add-on options are available for all stays booked through Ohiopyle Vacation Rentals, from a bottle of champagne, to a butchers grill package sourced locally from Stone House Butcher and Provisions, we'll have it in the unit ready for you. For the thrill-seekers, we offer guided white water rafting excursions along the upper, middle, and lower Youghiogheny River through White Water Adventurers. For the outdoor enthusiasts, rent an E-Bike and explore the GAP trail, which goes right through downtown Ohiopyle.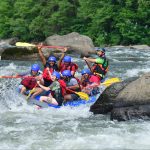 Raft the Yough River
Experience the unique thrill of white water rafting along the Yough River. Different class rapids and guides for all experience levels.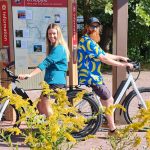 E-Bike the GAP Trail
Rent an E-bike and enjoy great views of the Yough River, beautiful mountains and native wildlife throughout the State Park and GAP trail.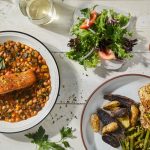 Catering & Delivery
Celebrating something special? Have dinner catered and delivered to your rental property. Add a bottle of wine, chocolate covered strawberries, or charcuterie tray to be ready in your home when you arrive.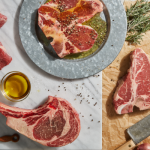 Butchers Grill Package
Enjoy mountain views while taking in the aroma of sizzling steaks on the grill. Our Farm-to-Table butcher package will be delivered to your home so you can conveniently enjoy freshness & quality while supporting local farmers.
Policies
CHECK-IN – CHECK OUT: Standard Check-in time is 4:00 P.M. Standard check-out time is 10:00 A.M. These times are standard for all of our properties, and ensure our housekeeping and maintenance teams the proper amount of time to prepare the home for your arrival.
EARLY Check-in / Late Check-Out: Early check-in and late check-out requests will be considered by Ohiopyle Vacation Rentals on a per-case basis, and must be made at least 48 hours prior to scheduled check-in or check-out times. Early Check-In or Late Check-Out requests can be added to any reservation and are subject to a $50 fee. Early Check-In time is limited to 1-hour prior to standard check-in. Late Check-Out time is limited to 1-hour after standard check-out. We are unable to accommodate custom early check-in or late check-out times. Ohiopyle Vacation Rentals reserves the right to cancel any early check-in or late check-out requests at any time.
Unauthorized early check-in or late check-out is expressly forbidden and will result in a charge equal to or greater than the amount of one night's rent, at the discretion of Ohiopyle Vacation Rentals.
Reservations totaling less than $2,000 and cancelled more than 30 days prior to your arrival day may receive a full refund, less a $199 cancellation fee.
Reservations totaling more than $2,000 will incur a 10% fee if cancelled more than 30 days prior to your arrival day.
All reservations cancelled less than 30 days prior to your arrival day are nonrefundable.
Once your reservation is confirmed, any cancellations, changes of dates, or switching of properties will invoke the cancellation policy.
Pets are limited to two (2) domestic, house-trained dogs per property.
The non-refundable pet fee is $50, plus tax, per pet.
Ohiopyle Vacation Rentals will not approve requests for other species of pets. All dogs should be leashed at all times when outside the property. Guests are responsible for cleaning up all pet waste, and pets are not allowed on furniture at any time. Dogs must be treated with a flea and tick repellent at least one week before arrival. Pets may not be left unattended for any undue length of time.
All Ohiopyle Vacation Rentals homes and units provide FREE onsite parking. Parking is restricted to designated parking areas. Parking on grass is prohibited.
Please be aware that homes located in downtown Ohiopyle do have limited parking availability.
Professionally laundered linens will be provided during your stay with Ohiopyle Vacation Rentals.
Sheets and towels are provided for the maximum capacity of the home. Beds will be made with linens, pillows, a blanket and bedspread.
Towels are also included (1 Bath Towel & Washcloth per person up to property occupancy limit). If your home has a pool or a hot tub, 1 beach towel will be provided per person per the occupancy limit of the home. Please do not remove towels from the property.
All properties, unless otherwise stated, have on-site laundry as a courtesy for guest use. Extra linens will not be provided, as we ask our guests to utilize the convenience of the laundry facilities.
OCCUPANCY: Guest occupancy is restricted to maximum occupancy of the home as described for the rental property at the time of booking. If you will be having more guests in the property than the occupancy limit, a charge of $20 per guest, per night will be charged to the payment information on file.
WEDDINGS/EVENTS: No wedding or special events (including but not limited to family reunions, bridal showers, baby showers, vow renewals, birthday parties, graduation parties, and similar functions) are allowed without the advance notice and approval of Ohiopyle Vacation Rentals.
SMOKING: All Ohiopyle Vacation Rentals properties are strictly non-smoking. This includes but is not limited to: tobacco products such as cigarettes, cigars, or hookah, vaporizers, medicinal cannabis, incense, herbs or essential oils. While we respect the laws of the State of Pennsylvania regarding medicinal cannabis, we please ask that patients utilize their medicine in a way that does not impact the cleanliness of the home. If we determine that smoking in a property has occurred, an additional cleaning fee of $500, plus any additional costs to clean the property will be assessed.
GRILLS: Grills are winterized and stored from the months of November through March, and are not guaranteed at any time. Charcoal and Lighter fluid are not provided.
SEASONAL WEATHER: Many homes are located on gravel or private mountainous roads. Roads are plowed of snow and maintained routinely, however inclement weather may cause emergent issues with access or parking. Please be mindful of the weather and the performance of various vehicles in inclement weather situations such as rain or snow.
OUTDOOR FIRES: Outdoor fires are permitted on property ONLY in the designated fire pit.
TOWNSHIP NOISE ORDINANCE
We are glad to have you as part of the Ohiopyle Vacation Rentals Family! This is your home away from home during your trip, and we hope you feel comfortable and welcome. Not only does our area offer amazing natural beauty and serenity to travelers, but to our local community as well. The permanent residents of our local community are a vital part of our ability to provide you with this experience and as such we ask you to respect the local township noise ordinance:
No Outdoor Noise: 9PM – 9AM
What is an example of outdoor noise?
Outdoor Music of any kind – speakers, amplifiers, live instruments (including acoustic instruments), vehicle stereo systems, etc.
Excessively Loud Indoor Music – Neighbors should not be able to hear your music from their homes.
ATV's, WATERCRAFT, GAS POWERED VEHICLES or TOOLS – The use of ATV's, Watercraft or any other powered vehicles on OVR Property is strictly forbidden, unless with express written permission from our management team. Any other gas powered or electrically operated tools or equipment (such as air compressors) are only to be used outside of noise ordinance hours.
For full terms and conditions, please review your rental agreement and reach out to Ohiopyle Vacation Rentals with any questions. We hope to see you soon!