Friday, September 1, 2023
Join us on Friday, September 1, 2023 for our concert series at the newly opened Timber Rock Amphitheater in Farmington, PA, featuring the Shenandoah Revival Tour! When country music lovers talk about the greatest groups in the genre, Shenandoah is always at the forefront of any discussion. Doors open at 7pm with special rising country star, Craig Wayne Boyd, season 7 winner of The Voice! Tickets start at $35 and can be purchased at a discount in advance or at the Box Office the day of the show. Be sure to get your tickets and mark your calendars!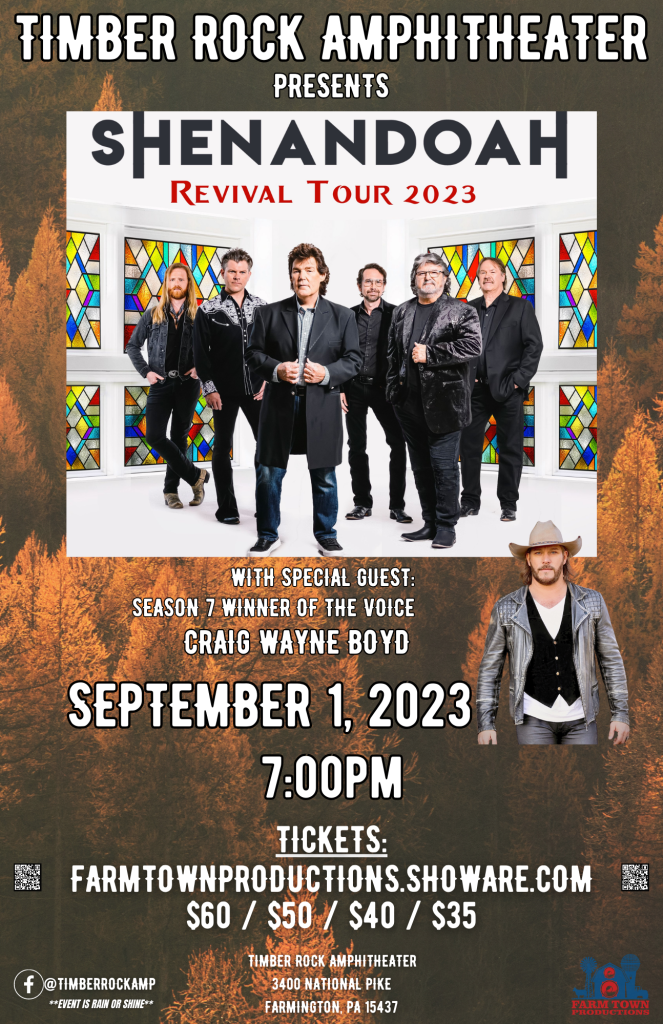 Event Schedule:
5:00pm – Parking Lots Open
6:00pm – Amphitheater Gates Open
7:00pm – Craig Wayne Boyd
8:30pm – Shenandoah
Fueled by Marty Raybon's distinctive vocals and the band's skilled musicianship, Shenandoah became well known for delivering such hits as "Two Dozen Roses", "Church on Cumberland Road" and "Next to You, Next to Me" as well as such achingly beautiful classics as "I Want to be Loved Like That" and the Grammy winning "Somewhere in the Vicinity of the Heart" duet with Alison Krauss.
Timber Rock Amphitheater, formerly known as Great Meadows Amphitheater and the Woodland Zoo, has undergone a remarkable transformation after years of neglect. Once home to the Young Washington Outdoor Drama and the Woodland Zoo's exotic animals, this venue now embraces its new identity as a musical haven. Timber Rock Amphitheater is ready to kick off its 2023 concert series. Immerse yourself in its rich local history as you enjoy the sweet sounds of amazing musical talent all while taking in the stunning views of the Laurel Highlands sprawling out behind the Main Stage.
Mark your calendars for this incredible event, and let's make the Grand Opening Season of Timber Rock Amphitheater one to remember! Get your tickets for Shenandoah and Craig Wayne Boyd today, we'll see you there!